General News
New:

Are you new to boating? You need a PCOC card before you go out on the water. We just scheduled a course for you!

A spring course for Boating 1: Boating Basics (PCOC) is being scheduled at the Port Whitby Marina. It is a 2 day course from 9:00AM to 4:00PM on May 2-3, 2017. Please contact Robert E. Lee at 905-985-9650 (office) or 905-242-8102 (cell) if you would like to take this course.

Map to location: Port Whitby Marina: Click here.
Updated April 18, 2017
New:

Menu for 2017 AGM set

We are having a cash bar and the menu is:
Rib eye Steak BBQ
Boneless Chicken Breast BBQ
Roasted or Baked Potatoes
Mixed Vegetables
Caesar Salad
Pasta Salad
Baked Meatless Pasta
Dinner Rolls
Sweet Tray
Coffee/Tea
You need to let us know by April 20 if you plan to attend so we have enough food. Thank you.
Updated April 18, 2017
New:

Have old flares that need disposal, we can help, check out our 3rd Annual Flare Disposal Day!

The Oshawa Power and Sail Squadron has planned its 3rd Annual Flare Disposal event on May 6, 2017 from 10am to 2pm at Port Whitby Marine Supplies (Click here for address, phone number and map).
Updated March 28, 2017
A successful 2016/2017 Boating Education Season has concluded.
The 2016/2017 Boating Education Season for the Oshawa Power and Sail Squadron has concluded. If you have interest in one or more of our courses in the 2017/2018 Boating Education Season, please do not hesitate to contact the instructor by email. Go to Courses tab for more details.
LOST or STOLEN Pleasure Craft Operator Card (PCOC)?
Check out the #1 frequently asked question at: Click here
Canadian Power & Sail Squadron 75 Year Anniversary Flag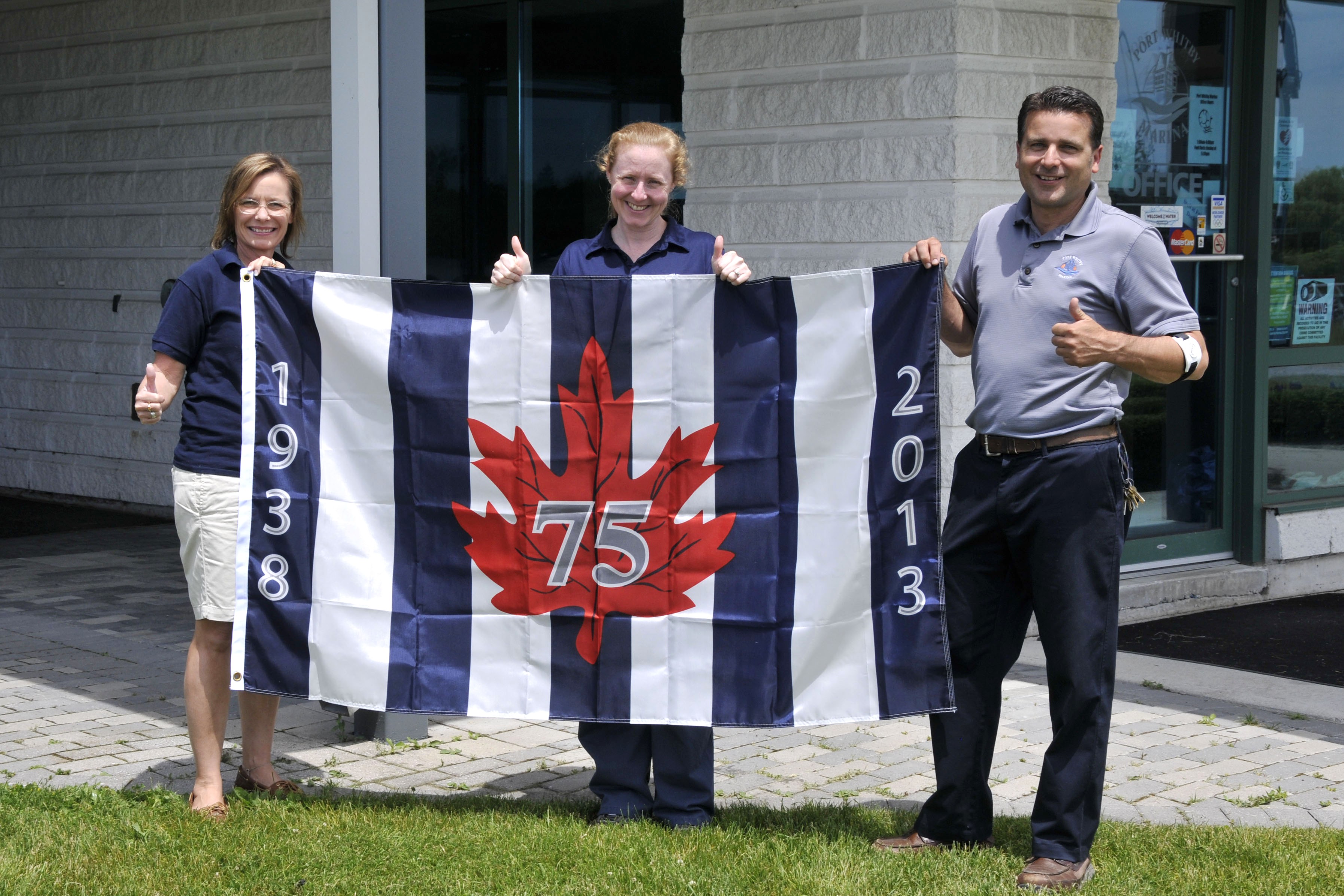 Canadian Power & Sail Squadron 75 Year Anniversary flag to be on display at Port Whitby Marina. This Flag was presented to Keenan Waters, Manager of the Marina by the Oshawa Power & Sail Squadron